Video games have never been more popular. With exciting new titles coming out every week, there's truly something for everyone to enjoy. As the industry has grown, games and gaming systems have become more accessible and affordable, with options on the market to suit just about any budget.
Thanks to their versatility and compatibility with most titles, PCs offer the most diverse and customizable gaming experience out there. However, the market is so flooded with options that determining which PC to buy can make your head spin, particularly if you don't have the funds to purchase the most expensive systems.
If you're new to gaming or don't have a lot of money to spend, don't worry: a budget gaming PC can still deliver a high-quality experience as long as you know what to prioritize. Check out our full rundown of everything you need to know about finding the best gaming PC on a budget.
How Much Should I Spend on a Budget Gaming PC?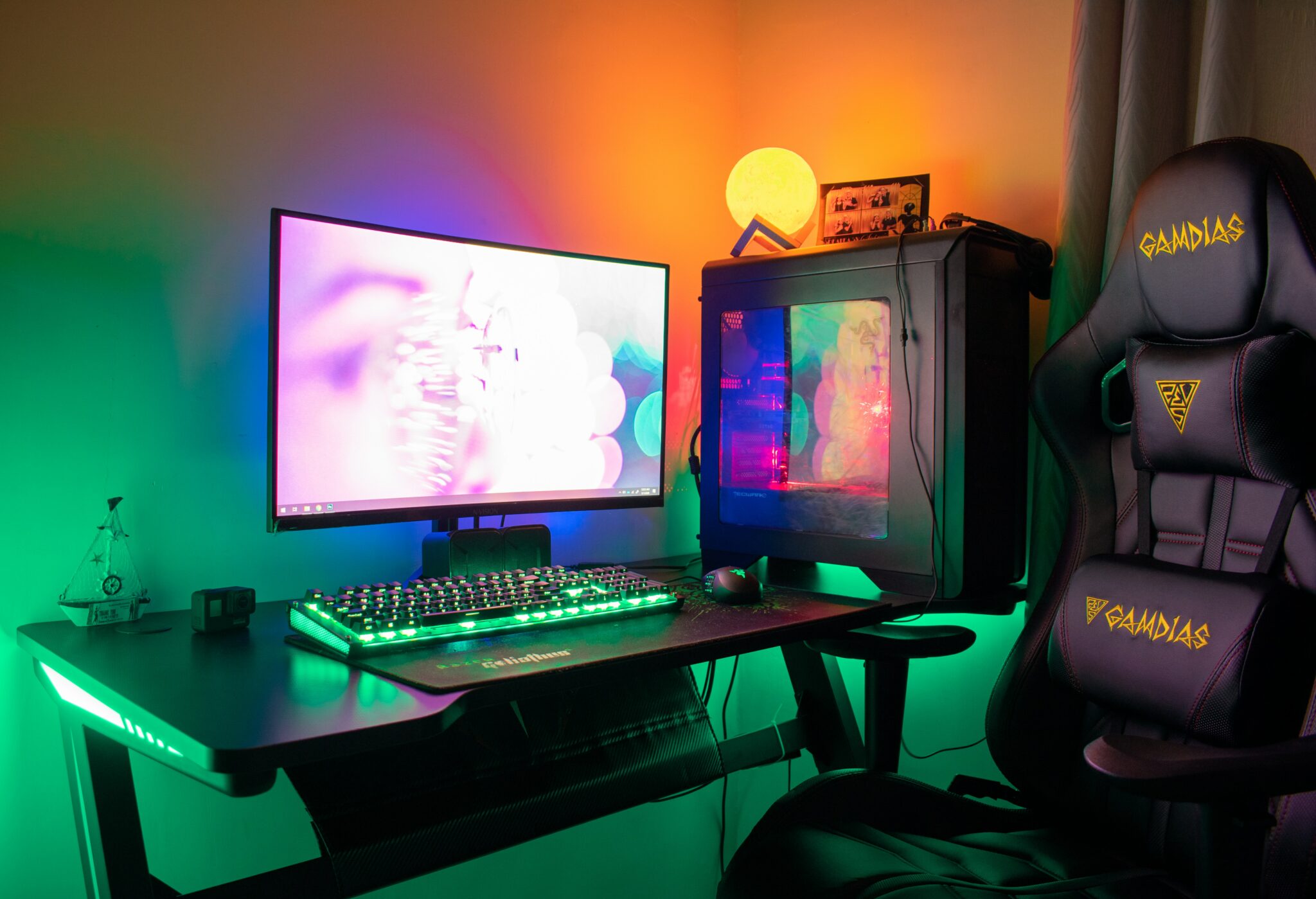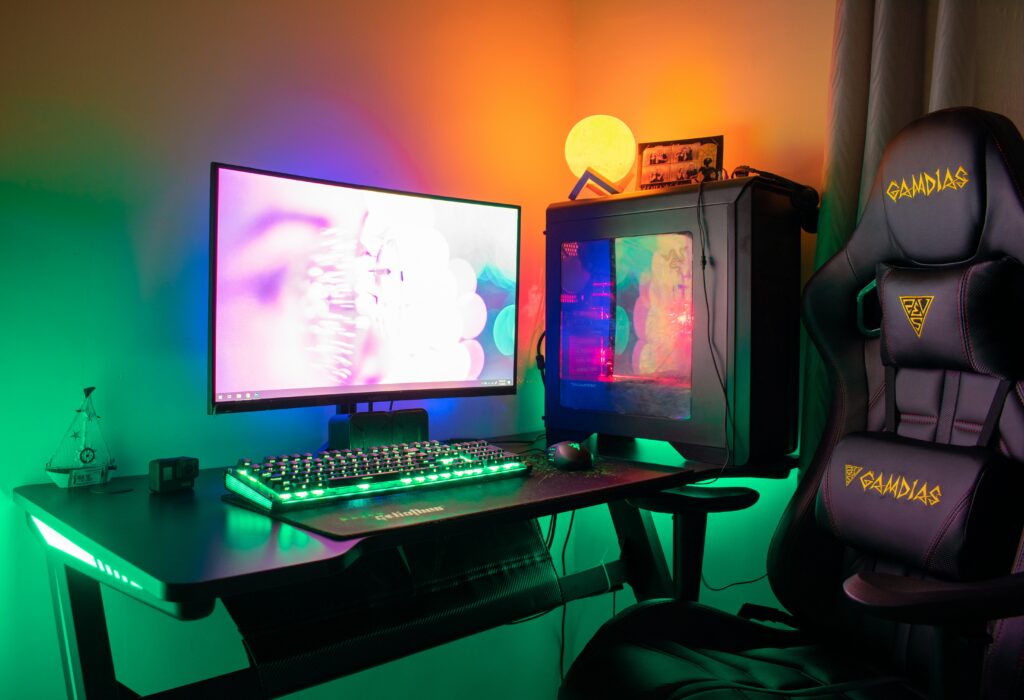 The gaming industry has experienced exponential growth in recent years, and could be worth as much as $321 billion by 2026. However, you don't have to spend a ton of money in order to have an incredible gaming experience.
Put simply, the best gaming PC on a budget is the PC that fits your budget while still delivering a high-quality and immersive experience. The most important area to focus on is the graphics card, followed by the amount of RAM available.
If you're looking for a basic setup that will allow you to play 1080p games on medium to high graphics, you should expect to spend about $600-850. A gaming PC that can run online co-op or 4K games will be closer to $1000-1200.
Which Budget Gaming PC is Right for You?
When you're trying to decide which is the best gaming PC on a budget, keep in mind the types of games you want to play. Obviously, your available budget is the most important consideration, but you also need to be able to run your favorite games without getting frustrated or putting up with bad graphics.
If you're mostly into single-player games with simple graphics, you can probably get away with a lower-end PC and 8GB of ram. If you like playing co-op games online and want to be able to keep up with competitive players, a higher-quality graphics card and closer to 16GB of ram will serve you well.
The Best Cheap Gaming PCs: Reviews and Recommendations
Most people are familiar with the top gaming laptop brands in the industry, such as Acer, MSI, Lenovo, and others. Most of these companies make PCs as well.
What you might not know is that budget gaming PCs are often made from the same core components as big brand models; they simply use less expensive casings and secondary parts to cut down on costs. That means you're getting a high-level gaming experience at a fraction of the price when you choose a budget PC over a brand-name machine.
Here are some of our favorite budget gaming PCs that offer respected and high-quality core components at a significantly reduced price than their brand-name competitors.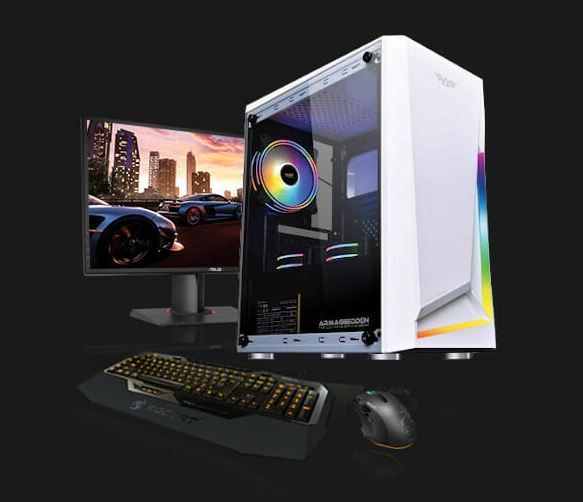 With its GeForce GTX 1650 graphics card, the Fiery Dagger is more than capable of running most of today's games at 60 frames per second. Its clear side panel exposes the mechanisms within, providing a striking and futuristic addition to any gaming station.
While the Fiery Dagger's 8GB of RAM is the minimum amount required for a smooth gaming experience, you'll be hard pressed to find a better line-up of components at a lower price point. If you favor single-player games over online co-op, you'll be more than happy with this machine's performance.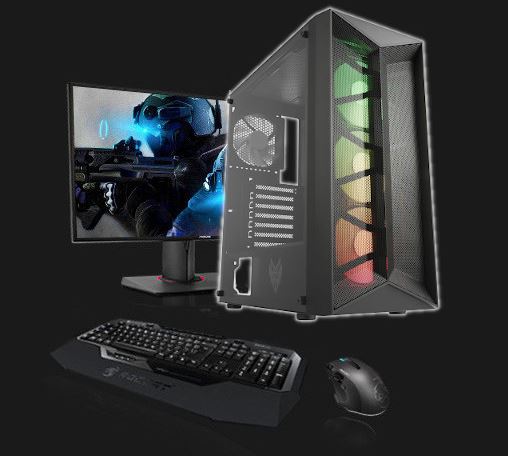 The Annihilator is more expensive than the Fiery Dagger, but it makes up for the price differential with its higher-tier components. Boasting a state-of-the-art 1080p RTX 3050 graphics card, this powerhouse gaming PC can run just about any game at the highest settings at a rate of 60fps or better. The Annihilator also has 16GB of RAM to ensure a smooth gaming experience even if other programs are running in the background.
Housed within a sleek black windowed chassis, this PC is a terrific option if you have a little more to spend but still want to stay within a modest budget. You'll get the experience of gaming on a mid-level MSI or Asus machine at a fraction of the price.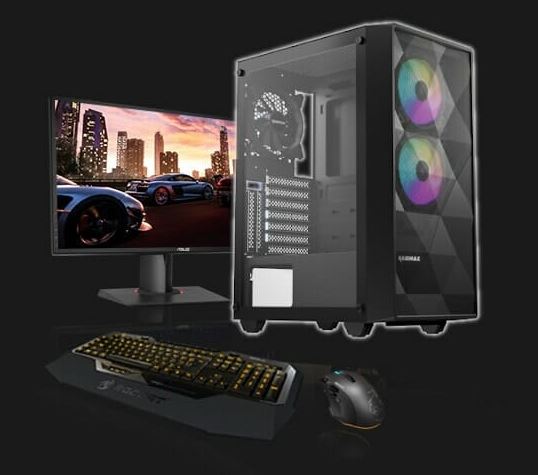 The Storm Phoenix is at the top of our range for the best gaming PC on a budget, but if you have the money to spend, it's absolutely worth the price. For one thing, you'll be getting a GeForce RTX 3060 graphics card, which is widely regarded as having the best quality for its price of just about any graphics card on the market. The Storm Phoenix also comes equipped with 16GB of RAM, which will allow you to edit 1080p or 4K videos as well as play your favorite games without having to worry about lag or overheating.
If you're still wondering, "How much should I spend on a budget gaming PC?" don't worry; this powerful machine comes in at around R18,200, or just over 1,000 USD. Its components are more than sufficient to let you experience 4K gaming, and will blow any 1080p experience out of the water.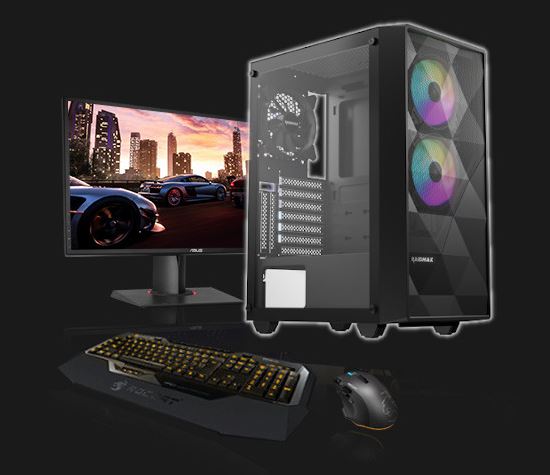 At the lower end of the budget gaming PC spectrum, the Burning Sentinel offers a pared down component list that will still allow you to play most games in 1080p on medium to high graphics settings. The Burning Sentinel has the same GeForce GTX 1650 graphics card as the Fiery Dagger, and has 8GB of RAM. The black gaming chassis isn't flashy, but its intuitive design will keep your components cool and prevent lag and crashes due to overheating.
If you've asked yourself "How much should I spend on a budget gaming PC?" and decided the answer is "As little as possible," this setup might be your best bet. You'll still be able to run single-player and offline games just fine. As a plus, you may have some money left over to spend on exciting accessories, such as a high-tech mouse or gaming chair.
How We Selected the Best Cheap Gaming PCs
In deciding which gaming PCs to feature, we focused on graphics first and foremost. Many modern games have more demanding graphics than the games of the past. The best thing about budget PCs is that you can save money on certain components without sacrificing the appearance or playability of your game—as long as you make a solid graphics card one of your top priorities.
We made sure to consider RAM as well when making our selections. You need at least 8GB of RAM for a stable gaming experience, so we didn't include any PCs with less than that. Since some games require more processing power, we decided to include a few upper-tier options with 16GB of RAM.
Finally, we obviously had to stick to a modest price point when considering the best gaming PC on a budget. After all, when you're trying to answer the question "How much should I spend on a budget gaming PC?" you can't turn around and recommend the most expensive machine on the market. If before today you thought you had to spend an arm and a leg to get a high-quality gaming PC, we're happy to be able to prove you wrong.
In Conclusion
If you've wanted to get into PC games and keep wondering, "How much should I spend on a budget gaming PC?" we hope we've answered your question. It really depends on the type of games you like to play and what you value most when you sit down to game. You should also consider the other things you might want to use your PC for, such as video editing or streaming.
The most important thing to remember about budget PCs is that they offer a shocking amount of power for their price. When you buy the best gaming PC on a budget, you won't have to sacrifice the quality of your gameplay. As long as you make sure the core components are high-quality and fit your needs, you'll be able to find a machine within your desired price point that does everything you want and more.