Building a full gaming PC stack is a labor of love. It's also pretty expensive. Gaming should be accessible to everyone, so how can you enjoy your favorite games without breaking the bank?
The answer: with mini gaming PCs.
These computers are smaller, sleeker, and far less expensive than full-size PCs. There have always been questions about their performance. However, today, these computers have ample power for even the most taxing games. They offer excellent graphics (and they can be upgraded if you want).
Read on to discover the best mini PC for gaming!
Can a Mini PC be used for gaming?
So are mini PCs good for gaming? Short answer: yes. Of course, any computer can be used for gaming. Some readers may remember online gaming in the 90s and early 00s with dial-up internet and graphics performance that is best described as… nostalgic.
Hey – even if we could hand-count the pixels on the screen, we were still gaming. It was still fun. Today, it's reasonable to expect a bit more from our computers. So the real question is how mini gaming PCs perform.
Here's what to consider.
RAM
If you're wondering which is the best mini gaming PC, you should start by checking out its RAM. This has historically been the problem with smaller computers; they just haven't been able to run games smoothly. 4GB of RAM is sometimes considered the benchmark for a functional work PC, but if you want to play games, you should ideally look at 8GB or upwards.
Some mini gaming PCs boast up to 16GB of RAM. This will let you play any game with optimal performance. You may get away with some less taxing games with 6GB of RAM, but if you're playing fast-paced FPS games or bulky online RTS games, you want at least 8GB.
A good tip is to check out the minimum requirements of the games you want to play. If you only want to play small, simple games, you can save money by spending less on RAM.
Graphics
Graphics are the other pain point when people ask, "are mini PCs good for gaming?" Many modern games have superb visuals, and you want to be able to enjoy those in full. Poor graphics will significantly impact your experience.
Many modern mini gaming PCs have excellent integrated graphics cards. However, even gamers with stack PCs often upgrade their graphics cards – the question is the same here. An integrated card will almost never be as good as a dedicated graphics card.
With a mini PC, you can save money compared to buying a desktop and use your savings to upgrade the graphics card. This is especially useful if you want to play huge, open-world games or if you play games that require split-second reactions.
Storage
Good news – storage is rarely an issue for mini gaming PCs today. High-end models carry up to 5TB of storage, which is more than you'll ever likely need. Even affordable models tend to have at least 128-256GB of storage. This is more than enough unless you're planning to play a huge variety of storage-heavy games.
Ports
Most mini-computers come with all the essential ports for connecting to a TV, a dedicated GPU, an ethernet cable, and hardware like your mouse and keyboard. Check which ports you'll need before you make your purchase – while you'll probably be fine, it's annoying to have to buy an adaptor because you didn't do your homework.
Types of Mini PCs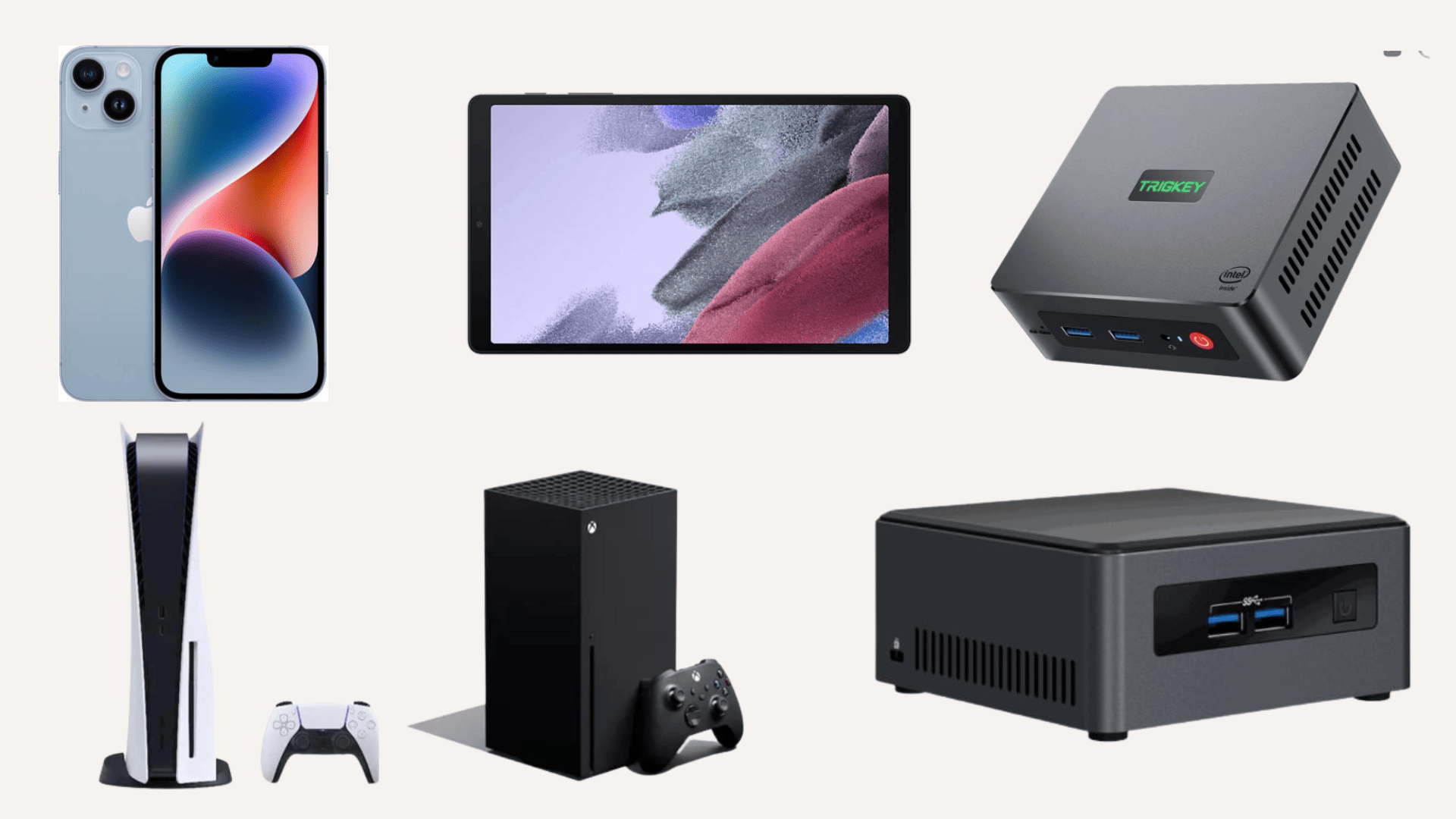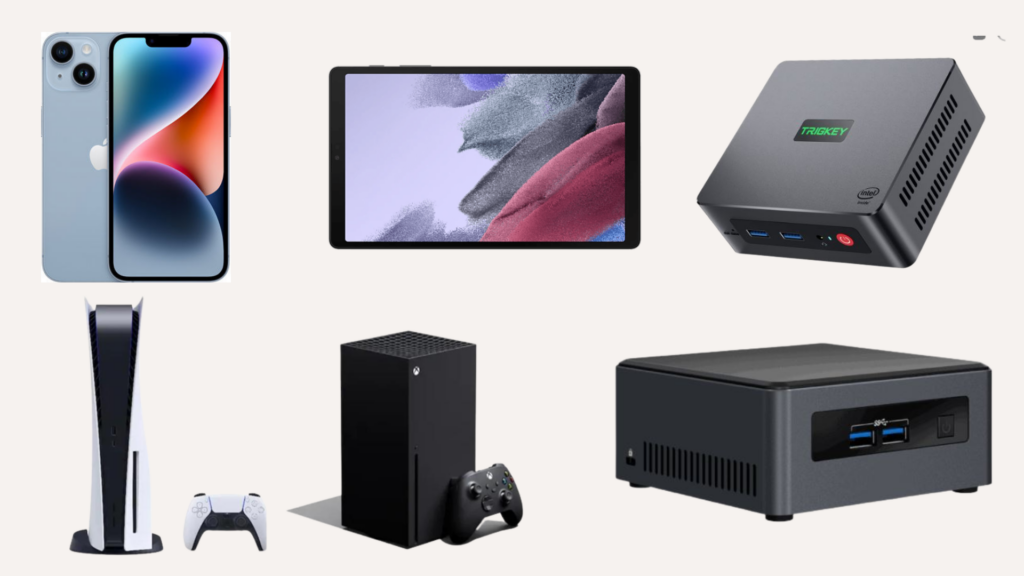 Technically, any computing device smaller than a desktop computer qualifies as a "mini PC". This includes:
Smartphones. Some games can be played on smartphones! However, your options are very limited.
Tablets. Likewise, tablets are mini PCs. We wouldn't recommend them for most gaming applications.
Consoles. Consoles like a PS5 or an Xbox Series X are dedicated gaming computers! Unlike PCs, they have limited use for browsing online or communication.
Desktop mini PCs. These are often cost-effective alternatives to a full desktop and may perform better than laptops. They also integrate better with large monitors. However, not all models are designed for playing games.
Desktop mini gaming PCs. These have specifications that suit gaming, such as high RAM and enhanced graphics.
People ask, "are mini PCs good for gaming" because they don't want to splash out on building a full desktop computer. Space is also an issue – if you live in a small apartment with limited desk space, you may not have room for a full unit.
If you want to find out which is the best mini gaming PC, you should only buy a model advertised for gaming purposes. Otherwise, you'll find it under performs in key areas like RAM and graphics.
Should I get a dedicated or integrated graphics card for my mini PC?
Many small gaming PCs have excellent integrated graphic cards – but not all. If you don't want to splash out on a dedicated graphics card, shop around for a model that has a well-reviewed integrated graphics card.
Dedicated GPUs don't have to cost the Earth. You'll also save money on a mini PC compared to a desktop, so if great graphics are a must-have, you'll be able to better afford a dedicated GPU.
Should I buy a Bare Bones or Fully Configured mini PC?
Gamers often build their computers almost from scratch, and you can do this with mini gaming PCs. Here's the difference:
Bare bones: Your computer will consist of a motherboard and a processor. It's up to you to add components for RAM, graphics, and extra storage. You can optimize the computer to your needs.
Fully configured: The computer will have predetermined RAM and an integrated GPU. It'll cost more upfront than a bare-bones unit, but you won't have to pay for add-ons.
If convenience is your priority, then a fully configured PC is the way to go. However, if you think you'll add a dedicated GPU and want more RAM or storage, you may wish to choose a barebone model.
Which is the best mini gaming PC?
We outline some of the best mini gaming PCs below. Check out the offers, choose your add-ons, and enjoy!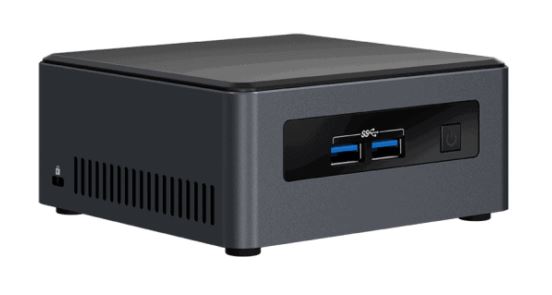 This affordable mini PC from Intel boasts a quad-core processor and numerous ports for connectivity. It can be customised with up to 16GB of RAM, 5TB of storage, and add-ons like a mouse and keyboard.
It comes with Intel HD graphics, meaning you'll have good graphics performance, and you can upgrade with a dedicated GPU if you choose. It's one of the most popular mini gaming PCs on the market, and for good reason – it has everything you need at a price you can afford.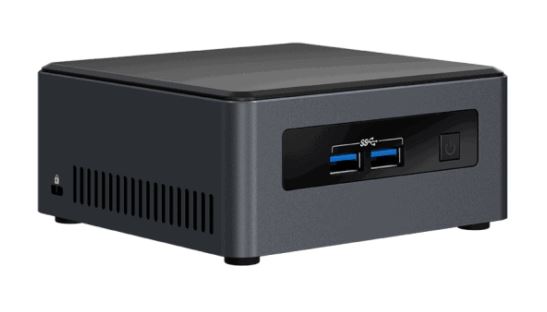 The Intel NUC 10th Gen includes a powerful Intel i7 processor with six cores, meaning performance will be smooth even when running energy-intensive games. It's customisable with huge volumes of storage space and between 4GB-16GB of RAM.
It includes numerous ports and is Bluetooth-compatible. It's an excellent choice for serious gamers.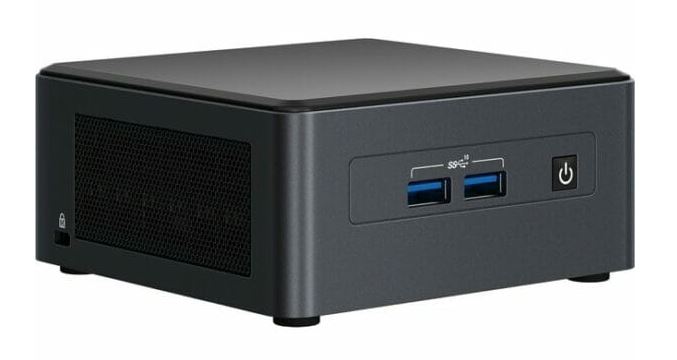 The Intel NUC 11th Gen is perfect for gamers who want fast speeds and excellent integrated graphics. An Intel i5 quad-core processor is supported by Intel UHD graphics, meaning you'll enjoy superb graphics without splashing out on a dedicated GPU.
Choose up to 16GB of RAM and other add-ons – make it yours and get gaming!
Wrap Up
Are mini PCs good for gaming? You bet they are. Save money and space by checking out our superb range of mini gaming PCs.
Build your own or choose from advanced configuration options to find a computer that does everything you need and more at a price you can afford. Shop the PC International store today!