Thinking about buying a new laptop but struggling to budget for it? Size isn't everything, you know – small laptop prices are typically much lower than larger models. With the best small laptops, you sacrifice a couple of inches of screen space and can save thousands of rand.
Of course, you need to be careful when buying small-size laptops. There's a risk that the smaller size means you're missing vital processing power, but that's only true if you don't do your research. By making a few smart buying decisions, knowing what you're looking for, and following our guide below, you can choose from superb models such as Lenovo small laptops and Asus small laptops without losing any power and getting some handy features in return.
Check out our recommendations below and choose your new device.
Which Mini Laptop is Best to Buy?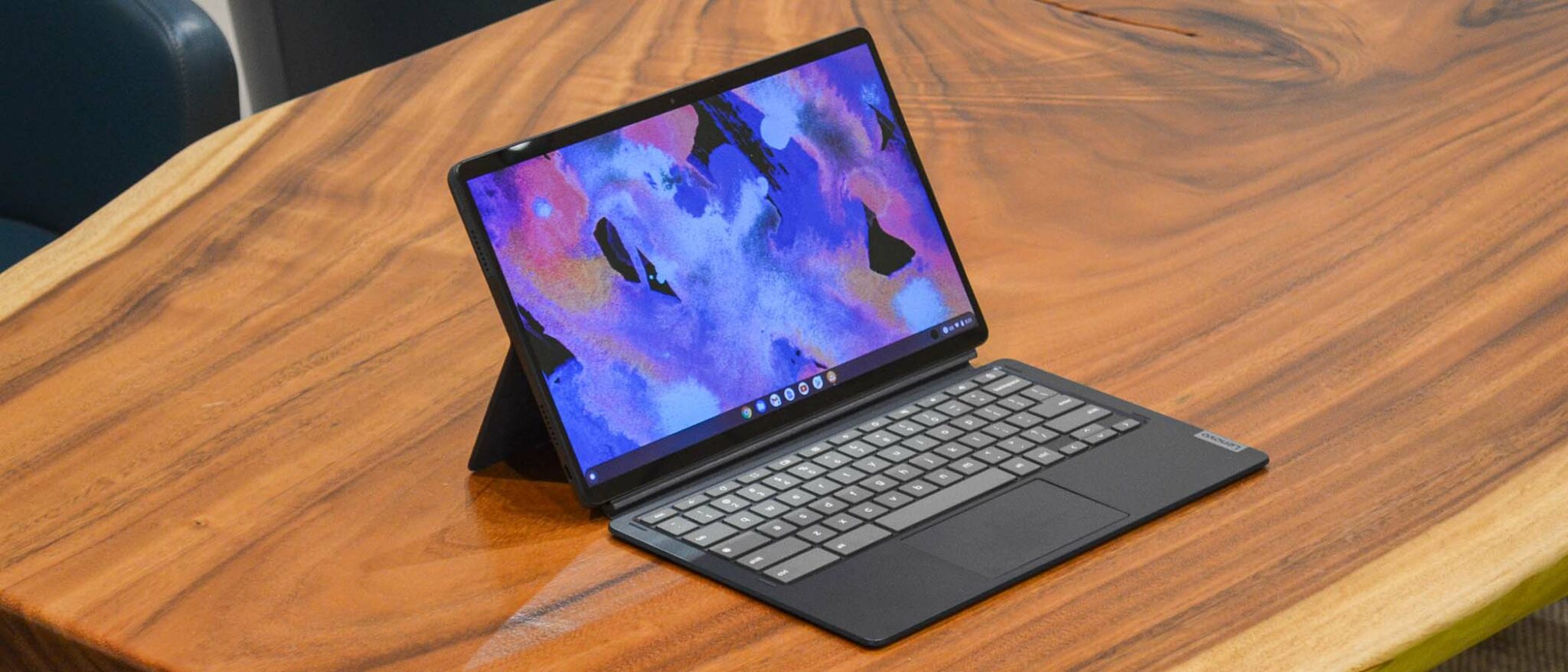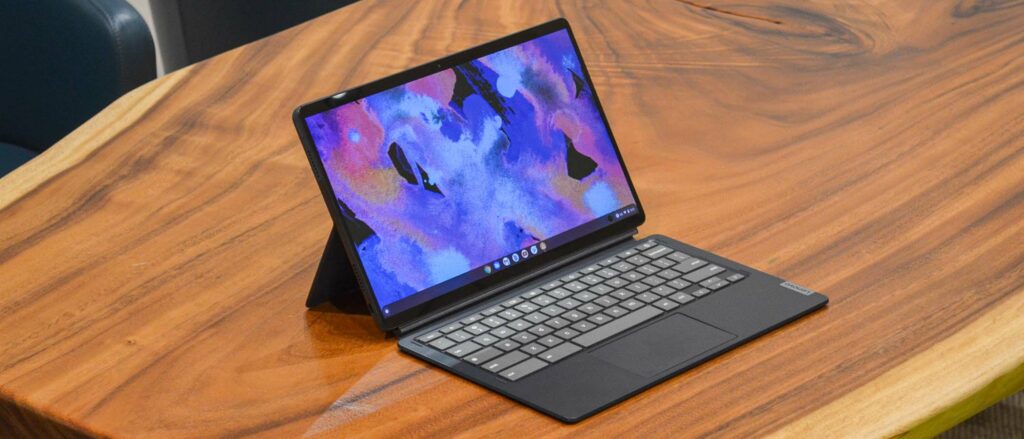 There's no single manufacturer that dominates the small laptop market. Generally, your best choices are Asus, Lenovo, and Proline. Here's a brief description of each manufacturer.
Asus small laptops are perhaps the most common type you'll see. Asus has got keyboard design on small-size laptops down to a fine art. Keyboards are tactile and easy to type on at speed, making them perfect for work – they don't feel cramped even though the layout is smaller. Another notable feature of Asus small laptops is that many are Chromebooks – we'll come to this later.
Small Lenovo laptops are characterised by fitting a lot of power into a small device. They're ideal for people who want a workhorse laptop that can handle their day job and run Windows applications while having plenty of juice left over for recreation (browsing the web, watching videos, playing games).
Proline is another great manufacturer. Proline models offer some of the best small laptop prices while performing everyday functions admirably. If you're shopping on a budget, Proline is a well-regarded manufacturer, and its products are very sturdy given their size.
It's not all about the brand, though. Let's talk about what sets small laptops apart from their larger counterparts.
Characteristics of small laptops
Here's a quick run-down of why you should consider small-size laptops.
Size. It's no secret and no surprise that small laptops are, well, just not as big. Regular models typically have screens measuring 15″-18″, while small models usually range between 10″-14″. Is this a bad thing? It depends on what you're using it for. If you want a computer that will play films at a super-high definition and give you a cinematic experience, then size matters. If you're looking for a computer that can handle tasks such as word processing, browsing, and running applications easily? Size isn't important.
Weight. These models weigh much less than standard-sized laptops. This makes them much easier to transport and also much easier to work with if you're on your computer in bed. This is a great reason to consider downsizing if you're a frequent traveller.
Price. Small laptop prices are very low. You pay a lot for those extra couple of inches of screen, and anyone worried about processing power knows that unless you're going high-end, mid-sized laptops often slow down faster than you'd hope anyway. Many small laptops perform exceptionally well over time, with Chromebooks being especially durable – see below.
Design. A common design feature of small-sized laptops is a hinged screen. This means you can fold the screen back on the keyboard to use it as a portable TV or tablet. It's another feature that makes these models ideal for frequent travellers and watching TV in bed or at your desk.
Convenience. The combination of low weight and a small screen makes these laptops much easier to pack and transport. It also means you need less desk space to open it up and start working, which is a great advantage if you have a small desk and use an attachable mouse.
Operating system. While Windows is still the dominant OS for many models, including small Lenovo laptops, you'll see a lot of Chromebooks in this range. Asus small laptops often use Chrome OS. This is Google's proprietary operating system. Key features include unbeatable built-in security, long battery life, and super-fast browsing speeds – these come at the expense of offline capability. However, the Google Docs suite more than makes up for this. We'll touch on some unique advantages of Chrome OS as we progress.
What makes small laptops unique?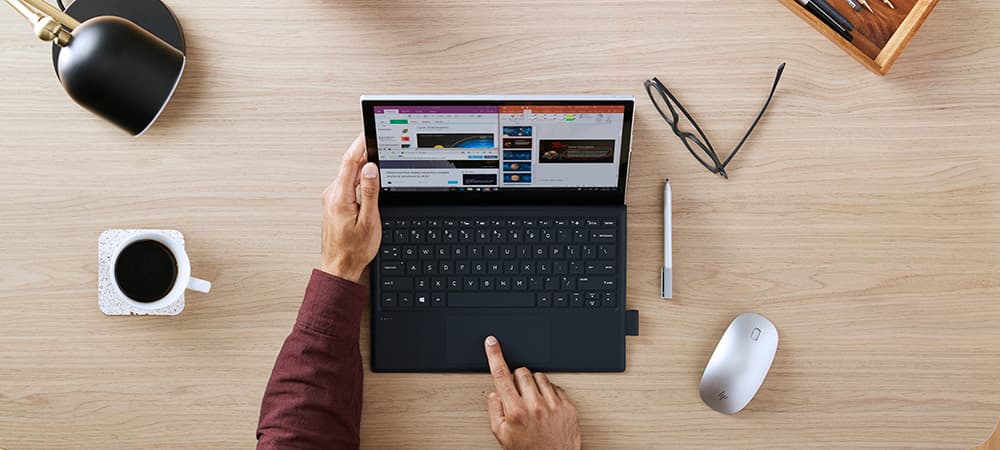 Suitability for travel and working on the move is a key advantage of small laptops. They're much easier to work with on trains, planes, and even at your desk. Whether you're doing work, watching a video, trading Forex, or reading the news, you'll have the full functionality of a computer wherever you go rather than relying on your phone.
Another unique benefit of small Chromebooks is that they aren't slowed down by offline applications, making your browsing experience faster than ever. This extends to small Lenovo laptops and those using Windows OS, as smaller models tend not to run as many background applications or be used for heavy downloads such as games.
How to choose a small laptop
Your main choice when you check out our small laptop prices and options below will be which operating system you use. Some use Windows OS, while others run Chrome OS. Here are the key differences.
Windows OS
Ability to run .exe files – you can make downloads and instal offline games
Good-quality built-in security
Sturdier design
Compatible with Windows-based software (can be helpful for work)
Chrome OS
Longer battery life
Superb security
Faster online performance
Typically weigh less
Quieter (Chromebooks don't require a fan)
Both have advantages – it depends on what you plan to use the computer for. We discuss a mix of Chrome and Windows laptops below.
Is a Mini Laptop Better Than a Laptop?


The answer always depends on what you're using it for. Can small laptops perform the same functions as larger models? Yes. The two cases where you'll be better with a larger model are gaming and watching videos – the latter only for the visuals, as the best small laptops can process video just as fast.
Can a small laptop be better than a regular laptop?
Yes! If you primarily use your laptop for online purposes, a Chromebook is far faster. Meanwhile, a mini Windows laptop is much more convenient for work than a full-sized option if you travel.
In what cases are small laptops the better option?
Many people prefer small-size laptops for several reasons:
Easier to use on the move
Cost much less
Lighter weight
Often faster for browsing, especially Chromebooks
Flip screens are great for videos or doubling as a tablet
Often the best option is to simply watch your favourite films and TV shows on an internet-enabled TV (which will be far better than any laptop) and use a mini laptop for other purposes. If you're serious about gaming, a desktop PC is a better option than a mid-size laptop anyway – the advantage of a mid-size laptop is doing a reasonably good job of several things. Each can arguably be performed better by a small-size laptop, a TV, and a desktop, respectively.
Summary & Our Pick of Best Small Laptops
Below are our top picks for the best small laptops. We've used functionality, price, design, and additional features as our main criteria – check out our detailed reviews below.
What do you offer?
Besides the laptops described below, you can find an incredible range of computers at PC International. These choices are our top picks for small laptops.
What laptops do you have in your offer that can be considered good small laptops?
All small laptops in this offer come from the top manufacturers, Asus, Lenovo, and Proline. These are perhaps the top 3 brands in designing high-end, small laptops that don't leave a gaping hole in your wallet.
Lenovo IdeaPad Duet 2-in-1 | N4020 | 4GB | 128GB Emmc | 10.3″ IPS WUXGA | Win 10 Pro | Active Pen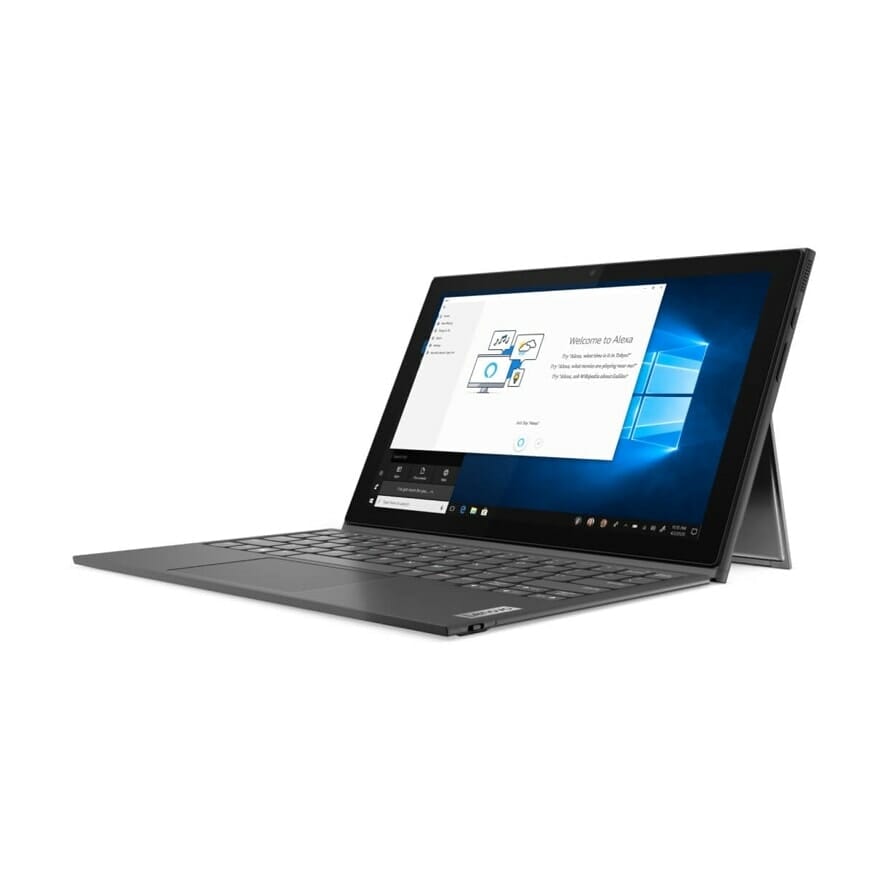 This small Lenovo laptop has a 10.3″ touchscreen and is perfectly designed to double as a tablet. It boasts 1920×1200 resolution, meaning you can watch video content in excellent quality. With 128GB of eMMC storage and an Intel Celeron Dual Core processor, it's got plenty of power to handle work and leisure side-by-side.
It operates on Windows 10 Pro with a free Windows 11 upgrade available. It's the perfect choice for a professional who frequently travels as it boasts an excellent keyboard that doesn't feel cramped despite the size. It's also available at a fantastic price – get yours now.
Pros:
Great for travel
High resolution
Touch screen
Plenty of storage
W11 upgrade free
Excellent keyboard
Cons:
Final Verdict:
A perfect, affordable companion for the business traveller.
Asus W202NA | Celeron N3350 | 4GB | 64GB eMMC | 11.6″ HD (1366×768) | Win 10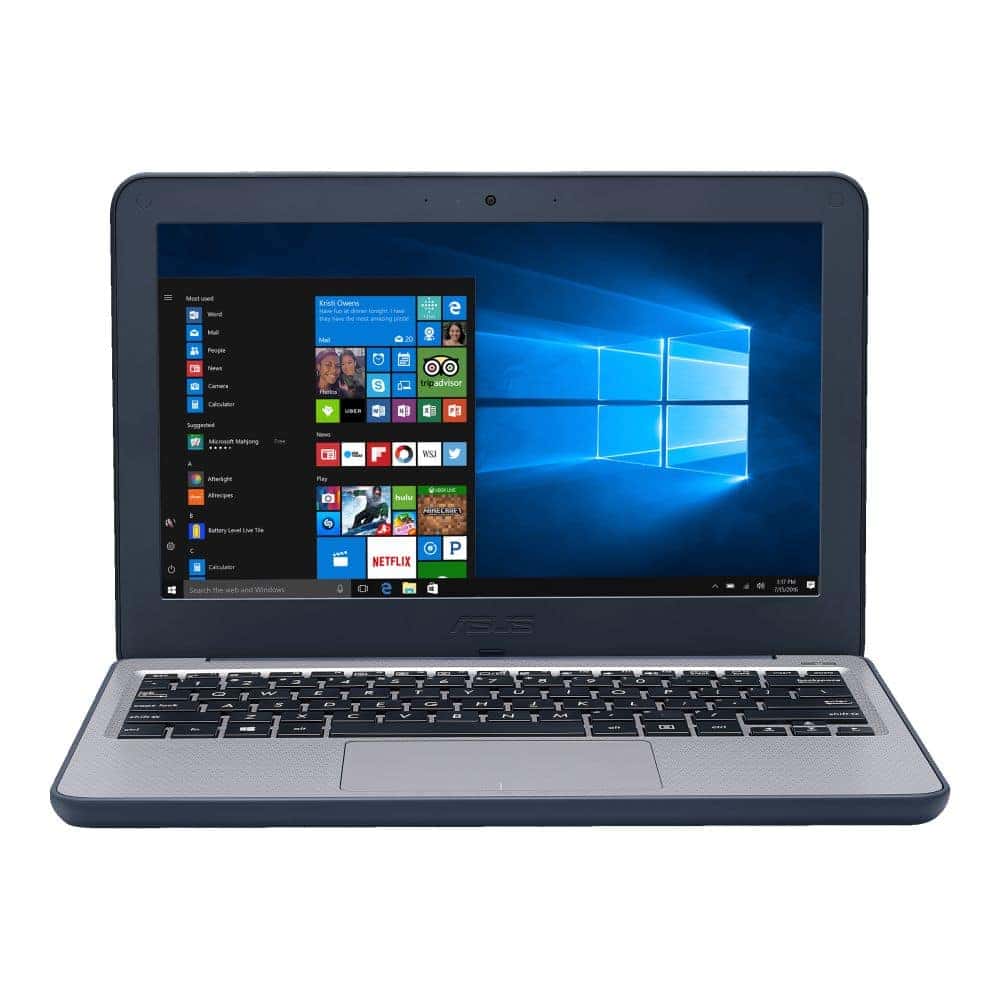 The W202NA from Asus is one of the cheapest small laptops you'll find anywhere. It runs on Windows 10 with a free upgrade available and is supported by an Intel Dual Core processor. With 64GB of eMMC storage, it's got plenty of space for work applications and a few downloads. The 11.6″ HD screen is an ideal size for quick working and browsing.
The design is sturdy and ergonomic, but the true standout is the price. This laptop is perfect if you're on a shoestring budget or looking for a little workhorse to complement your primary PC.
Pros:
Very cheap
Great manufacturer
Free W11 upgrade
Compact design
Cons:
Less memory than some Windows laptops
Slightly lower resolution
Final Verdict:
Small, compact, and very efficient. A wonderful cheap small laptop.
Proline V146B2 | Celeron N4020 | 4GB | 128GB SSD | 14.1″ HD | Win 10 Pro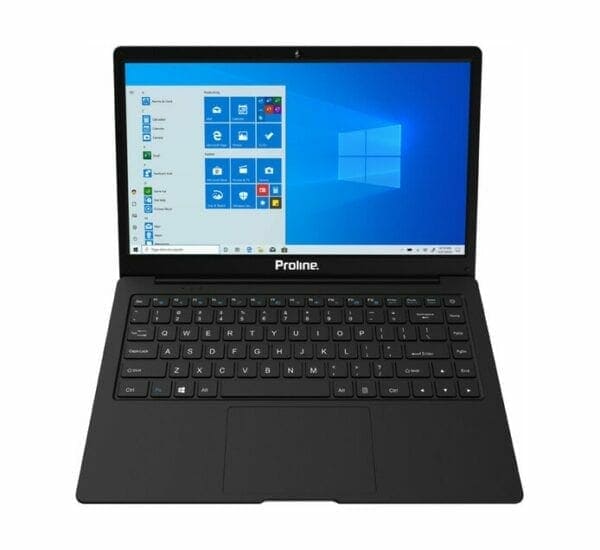 The Proline V146B2 is almost a mid-size laptop, with a 14.1″ screen making it a great choice for movies without sacrificing too much in weight. Its 128GB SSD storage is advantageous for work and download purposes, while its Intel Celeron processor means it'll run consistently for years.
It takes advantage of the extra space to present a well-laid-out keyboard. It operates on Windows 10 with a free upgrade available – it's a great choice as a steady business laptop.
You won't find a laptop of this size and performance at a similar price. It's an excellent choice for all purposes.
Pros:
Larger screen
SSD storage
Spacious keyboard
W11 upgrade free
Excellent price
Cons:
Slightly heavier than some mini laptops
Final Verdict:
An all-around top choice at a price you won't believe. Well worth it.
Asus Chromebook | N4020 | 4GB | 32GB eMMC | 11.6″ HD Touch | Chrome OS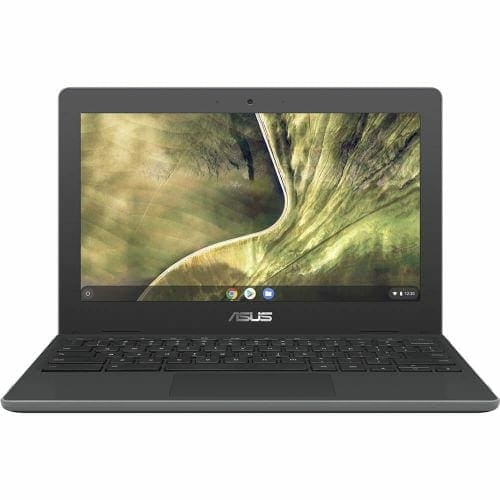 This Asus Chromebook is more compact than some Chromebooks on the market and features a good-sized 11.6″ HD touch screen, making it a superb travel laptop. Asus is so good at designing small keyboards, and this is no exception – it's perfect for working and browsing on the go.
If you've never owned a Chromebook before, you might see 32GB memory and raise an eyebrow. Chrome OS uses cloud-based applications for word processing, spreadsheets, etc., meaning that it doesn't need as much memory or a fan and operates much faster. It also boasts up to 12 hours of battery life. There's more to this little laptop than meets the eye.
Pros:
11.6″ touch screen
Tactile keyboard
Super-fast
Amazing battery life
Compact design
Cons:
Final Verdict:
A handy little Chromebook at a reasonable price. Perfect for travelling.
Asus Vivobook 14 | Celeron N4020 | 4GB | 128GB eMMC | 14.0″ HD | Win 11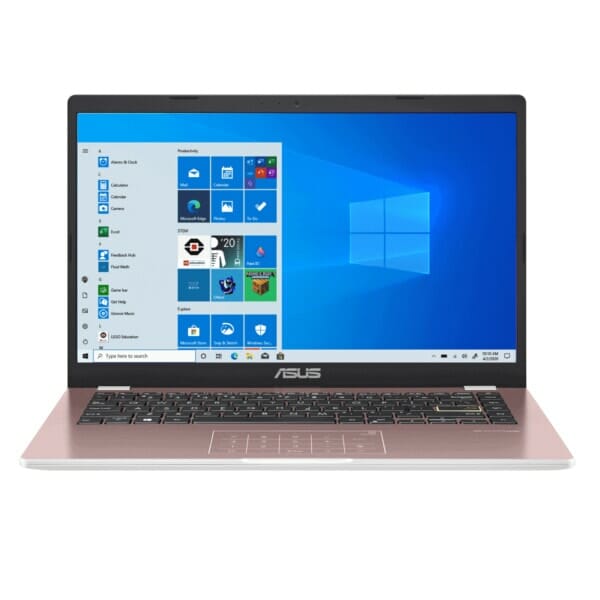 The Asus Vivobook 14 comes with Windows 11 already installed and boasts 128GB of eMMC memory, so there's plenty of room for downloads. Its 14″ screen at 1920×1080 resolution lets it compete with mid-size laptops for watching videos. Want to binge your favourite TV show on the move? No problem.
Asus has used an ultra-thin design to keep the weight down. The keyboard is excellent, and it uses a numeric trackpad. A cut-price alternative to a regular all-purpose laptop with plenty to offer – at a fraction of the price.
Pros:
Amazing price
Good memory
Larger screen with great resolution
Windows 11 installed
Lightweight for its size
Cons:
Final Verdict:
The perfect choice for anyone looking for an all-purpose home-use laptop on a budget.
Asus Chromebook | Celeron N3350 | 4GB | 64GB eMMC | 14.0″ HD | Chrome OS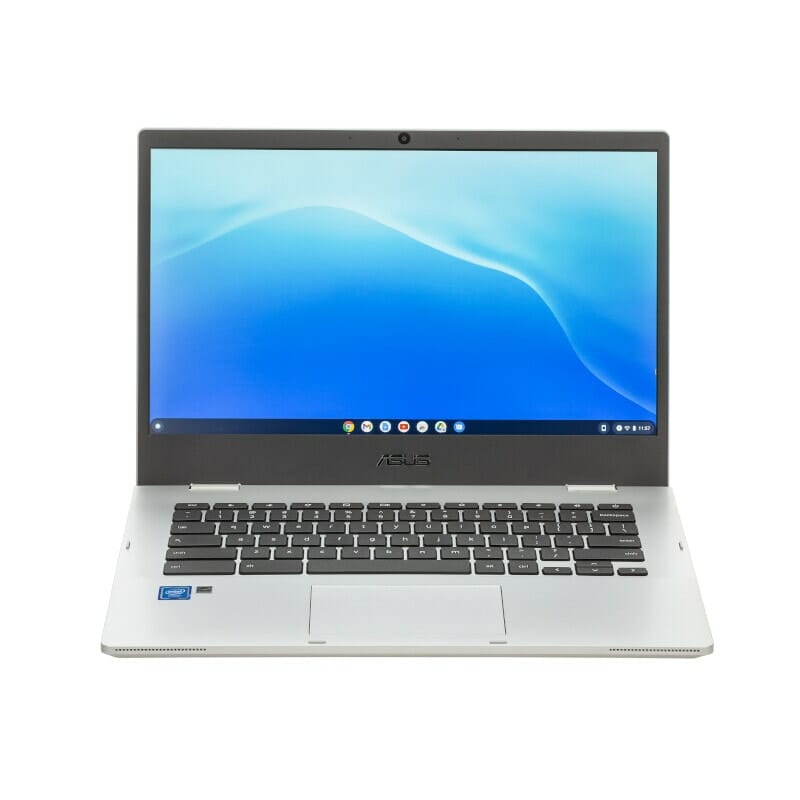 This slick, slim Asus Chromebook boasts a 14″ screen with a crystal-clear anti-glare display. Its keyboard is a joy to work with, thanks to the team at Asus – if your job involves a lot of typing, the low height and soft-touch keys make this a superb choice.
It boasts 12 hours of battery life and ultra-fast operating speeds. The inbuilt Chrome OS security means that this is the perfect all-around laptop when you realise that virtually all your applications are online. Oh, and did we mention it's very affordable?
Pros:
Super-fast
Excellent for typing
Anti-glare display
12 hours battery life
Affordable
Unbeatable security
Cons:
Slightly fragile without laptop cover case
Final Verdict:
Who needs background processes slowing you down? This is a quicker, sleeker upgrade – buy yours now.
Wrap Up
Perhaps you're looking for a little workhorse that will do everything you need while on the move. Maybe you're looking to escape noisy fans and slow running times. Perhaps you're just looking for an all-around great laptop on a budget.Our choices above have all your bases covered. Shop the PC International store today and purchase the best small laptop for your needs.